You are here:
Home
Home
The All Saints Lewis Carroll Centre is now fully open.
Churchman • Storyteller • University don • Pioneer photographer • Puzzler
The beautiful new building celebrates Daresbury's world famous villager, the creator of Alice and all her adventures in Wonderland and Through the Looking-Glass. It also tells you a bit about his many interests and how his Daresbury childhood influenced the man he became.
A great visit for family, schools, wanderers or literary enthusiasts
Enjoy our elegant new building and the displays illustrating Lewis Carroll's colourful life
Hear about his time in Daresbury, presented by local children and adults
Hear his stories presented by 'King of Mirth' Ken Dodd and dramatic Dillie Keane
Join a volunteer guide for a tour of the church where Lewis Carroll's father was vicar
See things that Lewis Carroll saw as young Charlie Dodgson
Admire the stained glass window erected in his memory
Browse our themed shop, selling the new 'Wonderland' game
Contact us to discuss a themed school visit
Wander around Daresbury village with its old cottages, former smithy and pub, little changed since Lewis Carroll's day
LC Centre open all year 10am till late Monday to Saturday and from 2pm on Sunday
All Saints access can be limited by church services, weddings, baptisms, funerals and other church events – please check website diaries (see below)
Individuals free entry, donations welcome
Group tours by arrangement at low cost – coach parking available
Wheelchair access
Toilet facilities
Parking
Extend your visit – wander, drive, cycle or walk to nearby (approx 1.5 miles)
NT Lewis Carroll Birthplace site. Picnic in the Lewis Carroll Centenary Wood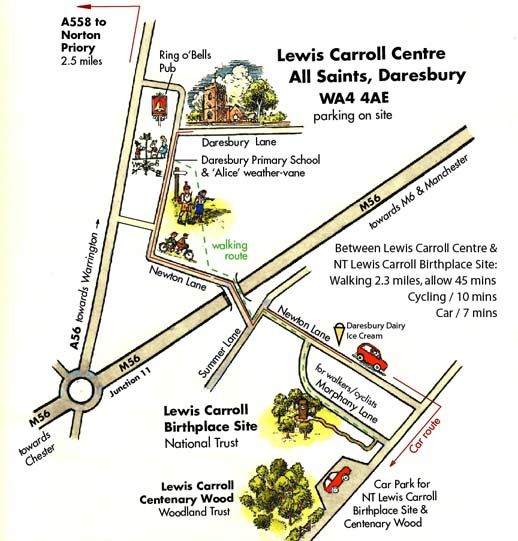 ^ Top