You are here:
Home
»
Kids Area
»
Ladders
Ladders
Word Ladder 1
Did you know that Lewis Carroll amazed his children friends by turning a Dog into a Cat!
Click this Word Ladder to see how.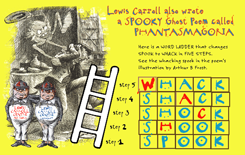 Word Ladder 2
Not many people know that Lewis Carroll also wrote about Ghosts!!!
Click this Word Ladder and see a very Whacky Spook.
Word Ladder 3
Now you are an expert it's your time to have a go at word magic.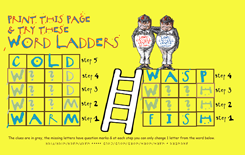 Click and print this Word Ladder, baffle your brains to discover the missing bits to turn a Fish into Wasp.
^ Top